What Others are Saying
"At last, this is the StarTrek Universal Translator, and you can buy it today."
Start your 30-Day Trial of the Compadre Suite
WIth your 30-day trial you get the complete Compadre Suite. No limitations, no restrictions, you get complete unlimited use of every module offered in the suite. Click here or on the button below to sign up for your trial.
Configuring your System
SpeechGear's Compadre product suite removes language barriers, Auditory Sciences' Interact-AS suite enables communications for individuals that are deaf or hard of hearing, and the Interact-Voice system gives voice back to people that have lost the ability to speak. With these products everyone can communicate with anyone, anywhere, at anytime, and do so in multiple languages.
Each module within these product suites targets a specific mode of communication, so you can easily design a system that is tailored to your specific needs. Configuring your system is as simple as 1, 2, 3. Click on the following buttons to get started.
To Order Products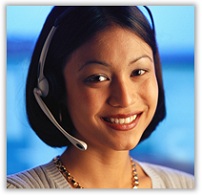 You can order your systems directly through SpeechGear or through one of our many resellers and distributors. SpeechGear carefully qualifies its partners, making sure that they have the same strong commitment to their customers as we do. Please feel free to contact us and we'll be glad to help you configure your system as well as to locate a sales office near you.